what?! you want happiness and love? go somewhere else, you dopes. this is national bad mood day. grrrrrrrrr.
okay, so i'm not really in a bad mood, but i know i'm way overdue in getting a post out. work life's been very busy now that the CIO has moved on. i'm doing tons more decision making and strategic planning (what to get for lunch) for the executives than i thought i would during this transition. seriously, i'm involved in more meetings to help redefine areas of responsibility, keeping the execs focused on deadlines to corporate, and using the fine art of bossing around people who are 5 pay grades higher to make sure they're not running around all willy nilly promoting people to positions that don't exist in the HR job codes (snore, i know) etc.... basically i'm the office mom. adored, sometimes ignored, but ultimately respected (even though they might stick their tongues out at me behind my back, just like son did last night, but that's a whole other story).
here's my plan for today:
getting this post finished while the laundry room is noisy with the cleaning of clothes, shower, then taking my son to home depot for their 'first saturday of the month' kids' workshop. he's been dying to wack a hammer and pound some nails all week, so today's the day.
but what i'm really looking forward to is national bittersweet chocolate with almonds day on 11/7. life is good when chocolate is in my future.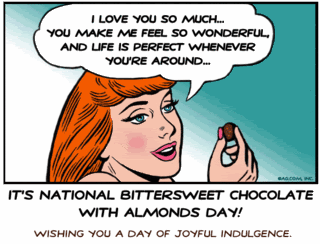 p.s. 11/7 is also election day. get out the vote and the chocolate. woo!