anticipation is a good thing.
the "on-edge", almost electric expectation of what's to come can sometimes be just as good as the actual event itself. my bro-in-law, jp, and i made up a party of three orange county 40-somethings who were all looking forward to seeing our favorite comic live & in person at the wilshire theatre. not that steve martin would be performing any of his iconic routines from the 70's; this event was to be a talk with martin and comedienne, carol burnett; focusing on his path to and past years in stand up comedy, which have been captured in steve's memoir,
Born Standing Up: A Comic's Life
.
to get us in the mood on the drizzly drive to L.A., we listened to my CD "Let's Get Small", a famously huge hit of a 70's album of steve doing his thing at the boarding house in san francisco. here's a transcription of the "Let's Get Small" bit:
"I'm on drugs. I'm, uh, I mean, you know what it is. What's the deal, man? I like to get small. It's a wild, wild drug. Very dangerous for kids though, because they get really small. I know I shouldn't get small when I'm drivin', but, uh, I was drivin' around the other day, you know .....and a cop pulls me over. And he goes, 'Hey, are you small?' I said, 'No, I'm tall, I'm tall.' He said, 'Well, I'm gonna have to measure you.' They've got a little test they give you; it's a balloon, and if you can get inside of it, they know... you're small. And they can't put you in a regular cell either, because you walk right out."
not super funny on paper, but it was the delivery and his physicalization of the concept - miming being so small, his arms reaching high into the air as to barely touch the bottom of the steering wheel. as a teenager, listening to the album was a lesson in using my mental fortitude, imagining how martin got such huge laughs spazzing on stage with happy feet, etc... but i digress.
so, there we were, now middle-aged(?) vice presidents and executive office types laughing and remembering the good ol' days of playing that record over and over while we drove up to L.A. to see the comic genius in the flesh.
was i excited? oh yeah.
we got to LA quite early. around 4 o'clock-ish to see if the tickets at will call could be picked up early. nope. there were already several people standing in line. the very first person was wearing black converse shoes and jeans, exactly what a message board poster at the sm.com web site declared she'd be wearing.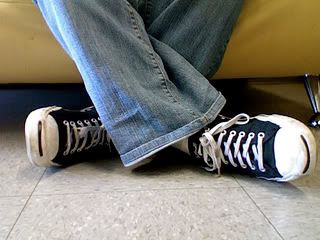 apparently it was not she, as the gal had no idea what i was talking about when i asked if she was "ten4", the poster's message board nickname.
off we went to find food, since the bistro right next door wasn't open yet. we decided upon spending happy hour at a little japanese place around the corner. one sapporo, six spicy tuna rolls and one bowl of edamame later, we headed back to get in line. by that time the next door bistro was open and our spot in line was situated right in front of the bar's door. we played tag team bar games, each taking turns holding our spot in line, while the other two chatted with other theatre goers doing the appetizer/drinkie thing inside.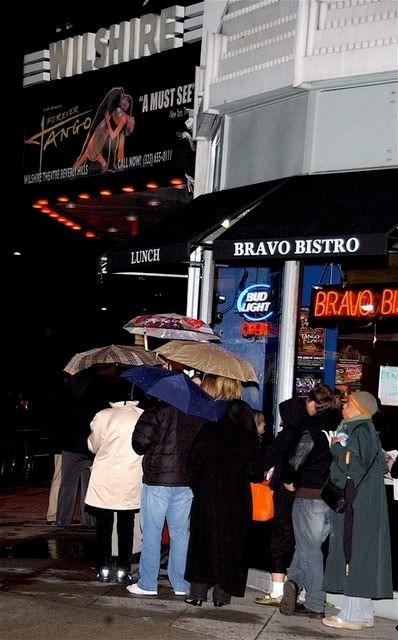 we were lucky the weather cooperated, only giving us steady rain in off-and-on segments; not enough to get pants legs wet and frozen feet, but just enough to make it a fun winter's night.
at 6:30 we got our tickets and made our way into the theatre. once inside, we staked out perfect seats - six rows back, aisle seats on the left. then i could take time to enjoy looking at the circa-1930 art deco Wilshire Theatre. this was a lovely building with intricate wood carving throughout. being inside any live performance theatre gets my actor's blood pumping and the energy flowing, bringing images of theatre ghosts and ectoplasmic memory imprints of the building's decades of past performances welling up into a vibe that was palatable. i love everything about theatre...being on stage and being in the audience. it's a great experience from any perspective.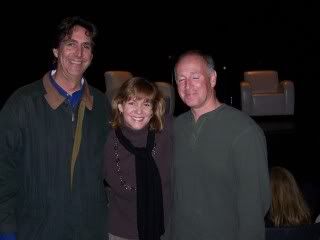 (bro-in-law, mckay & jp dreaming up a question for steve prior to the event)
7:45, andrea grossman takes the stage at the podium to introduce the evening's Writers Bloc series by Town Hall, which brings compelling speakers and topics of all sorts to the Los Angeles community. here's where i pondered yet again to myself, "who paired carol burnett, a classic sketch comedy veteran with stand up icon steve martin?" what did they have in common to discuss steve martin's stand up years? in my opinion, the evening called for a johnny carson type role. funny, casual, generous to allow the night to be about steve martin and his book; someone who had been there and experienced steve at his height of stand up fame. his buddy, Bill McEuen, would have been a possible choice, since he was instrumental in managing steve's early comedic path.
do you see what i'm getting at? there was one problem with this evening, and my prior nagging internal question of the odd paring of burnett with martin was prophetic. i thought the evening was to be about martin's new book, with burnett being able to interject a tad of her 70's memories into the conversation like spice to a recipe, but burnett thought she was the main ingredient. she seemed oblivious of the fact that her role was to be a guide allowing the evening to focus on martin. instead, she let dead silence hang in the air instead asking anything about the book or steve's years of stand up fame. to steve's credit, he made gentle attempts to keep the conversation flowing and focused on comedy. at one point he joked, "I dare you to ask me a question."
mr. martin and i were simpatico in our shared frustration of being caught in conversation quicksand. perhaps burnett didn't know she was to be in the interviewer role. very odd.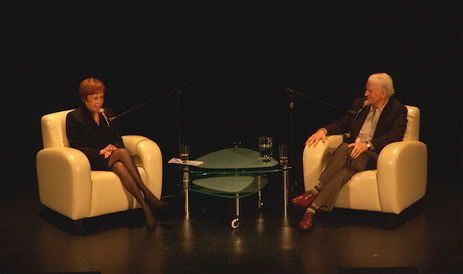 at the very beginning of the evening steve and carol did a bit with steve producing a list of questions to ask. oh, lord, i wish they did use the list. it at least would have provided some structure to the evening. which leads me back to andrea grossman. who produced the evening? who was in charge of setting expectations for the event? somewhere a ball got dropped. yes, burnett was funny, interesting and charming, but i didn't drive to L.A. to see her. i really wanted to listen to steve martin talk about his craft.
now let me take off my producer/director/actor rant hat and remember what i truly enjoyed about the evening. when martin was allowed to talk about comedy, he mentioned the mystifying element that is present in comedy. one of his goals as a comedian was to embrace the undefinable thing that happens when friends get together, banter, joke and reach a frenzied point of laughter where one can't even look at the other without breaking up in gut wrenching laughter. what is that thing? how can a guy analyze that element, capture it, write it down it its various forms and perform it so he and an audience can share an evening of side splitting, thought provoking, existential witticisms? that's what martin did so friggin' fantastically, and in my opinion, why he shot to fame. we, the audience, couldn't get enough of him and his unique way of presenting bits of goofy, quirky comedy. no wonder i adore his brand of humor.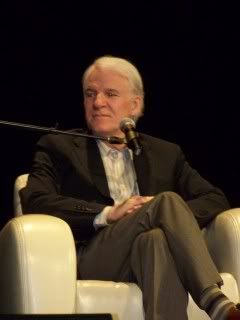 (blurry zoom as my camera batteries started to die. nice socks.)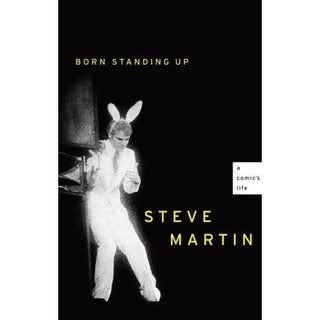 the book provides the little tidbits that embedded in martin's subconscious - the neurotic co-worker at disneyland who kept saying, "well excuse me for living." - the post card of happy feet behind the magic store counter - his first love, who led him towards a thirst for philosophy and a love of the non sequitur. go read the book. you'll enjoy seeing how all the little pieces of his life take a modest, earnest man and place him in history's book of comedic legends.
go to
Simon & Schuster
to listen to a couple of excerpts from Born Standing Up.
more pics: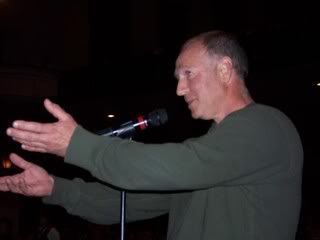 jp expressing his adoration/golden bear question, provoking steve's explosive quip "no adoration!" or something to that effect.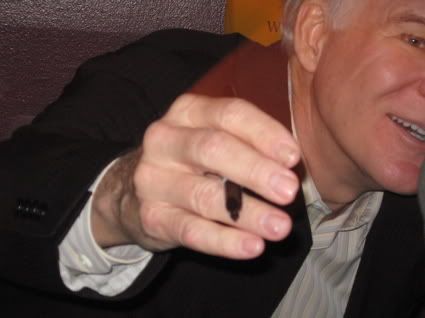 the hand that signed a thousand books... (thanks, freshie, for the editing tips. ;0)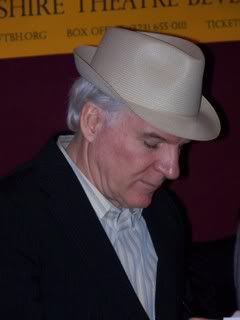 the signing machine. one book every 15 seconds. it must've been a loooong night for mr. martin.
i tried to catch a smile or something other than tired; my camera delay caught him peeking at his watch...
all in all, it was a great night. fun, food, friends and phenomenally talented people on stage. i kinda wish steve would reprise a new brand of his kind of stand up in small venues, but i guess i'll have to settle on listening to my CDs that capture his past.
hey, jp, you still have my Let's Get Small CD in you car. i want it back, mister.
# # # #
i may start adding trivia footnotes of odd connections and such to some of my blogs. here's a few:
1 -my bro-in-law is VP of linda jones enterprises. linda jones is daughter to famous cartoonist, chuck jones [think bugs bunny, daffy, fud, yosemite sam]. my BIL worked with chuck jones for years before jones' death, organizing art shows and promotional events.
2- Bill McEuen, buddy and early manager of steve martin, was also the manager of the Nitty Gritty Dirt Band. NGDB appeared on Saturday Night Live, and, billed as The Toot Uncommons, provided backing for the song King Tut.
3- i saw the NGDB in concert at a 1976 bicentennial rodeo in cody wyoming, while on vacation with my best friend, marisa, her dad, and his personal secretary, pat stacy. marisa's dad was to be the grand marshall in a little town parade while we were in wyoming for him to open the winchester rifle museum.