i've gotta Sharper Image gift card burning a hole in my pocket. i've had it for about a year now, because i watched an online webinar (is that redundant?) for some IT vendor. It's for a whopping $100 and i really want to spend it, but so much of the stuff in that store is comical cr@p for people who have way too much money to spend. once i bought a battery operated nose hair trimmer for my hubby. that seemed to be a waste of moola, and dang!, that trimmer hurt!!
well, i started to shop for something i wanted and neeced, but really couldn't find anything that made sense to me. i really wanted a nice 7x magnifying mirror. the ones they had were just average and now quite what i was looking for.
then i saw what i REALLY REALLY REALLY want. please don't laugh, but i want a roomba. that lil circular vacuuming robot. have you seen how expensive they are?! yikes.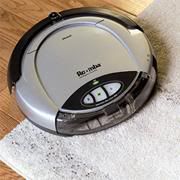 i mean, i truly hate vacuuming - or , more accurately, i hate lugging the vacuum up and down the stairs. well, anyways, i kinda want to use the card to get a roomba, but i'd be spending another 200.00 bucks to get one, since they cost around 300.00 with tax. oy!
this is why i still have the card. i don't know what to do. what would YOU buy at Sharper Image if you had a 100 gift card?