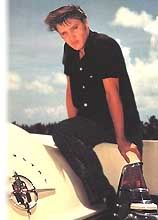 In today's world of political correctness run amok am I crazy to like the elvis song "a little less conversation"? some women rant that the song is sexist. I think it's sexy.
This song sounds like a real man wrote it. no flowers and doilies, no endless chatter and perfunctory romance. It's frank and basic. It's leather and stubble. it's a shoulder grab and a long hard kiss…and that gets me a little bit hot.
I'm not a poetic writer. I kinda keep things to the lowest common denominator. Keep it easy to understand; you agree or disagree. That's how I see this song. i like it. now, don't misunderstand, I like mushy stuff, too. Romance makes my heart flutter and I get all warm and fuzzy, it's fireside cozy and blankets. But warm and fuzzy can't compare to hot. Warm and fuzzy is driving the speed limit and looking at the scenery. Hot is…driving a stick shift on a curving road to its limits, wheels screeching, music blaring, wind blowing and the top's down, with a hand grazing my thigh. That's this song.
Elvis Presley - A Little Less Conversation
A little less conversation, a little more action please
All this aggravation ain't satisfactioning me
A little more bite and a little less bark
A little less fight and a little more spark
Close your mouth and open up your heart and baby satisfy me
Satisfy me baby
Baby close your eyes and listen to the music
Drifting through a summer breeze
It's a groovy night and I can show you how to use it
Come along with me and put your mind at ease
A little less conversation, a little more action please
All this aggravation ain't satisfactioning me
A little more bite and a little less bark
A little less fight and a little more spark
Close your mouth and open up your heart and baby satisfy me
Satisfy me baby
Come on baby I'm tired of talking
Grab your coat and let's start walking
Come on, come on
Come on, come on
Come on, come on
Don't procrastinate, don't articulate
Girl it's getting late, gettin' upset waitin' around
A little less conversation, a little more action please
All this aggravation ain't satisfactioning me
A little more bite and a little less bark
A little less fight and a little more spark
Close your mouth and open up your heart and baby satisfy me
Satisfy me baby